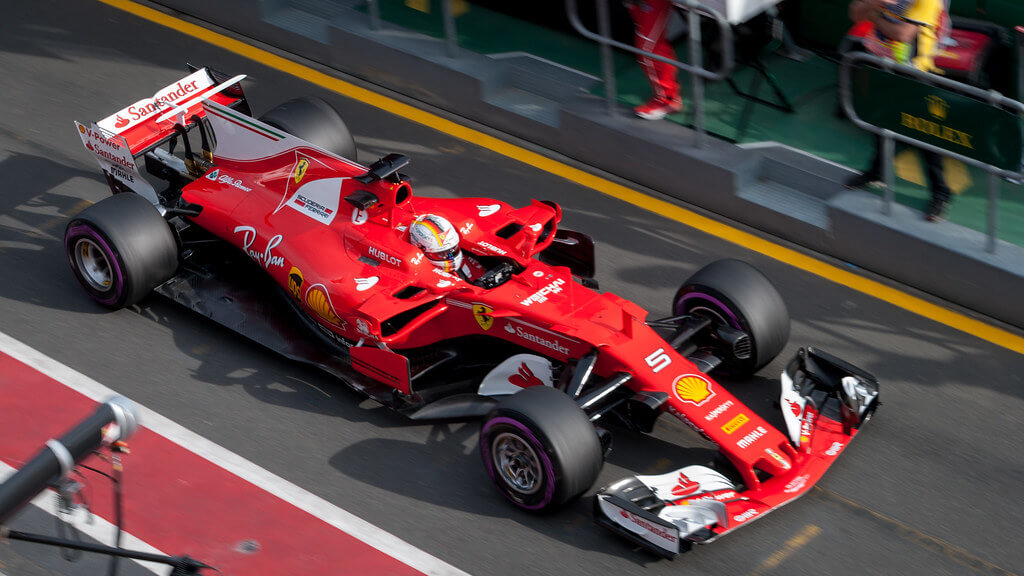 Sebastian Vettel, a world famous Formula One driver, is planning on leaving Ferrari by 2020's end. The decision was made mutually, reports indicate. 
According to TSN News, Sebastian Vettel, a world famous Formula One driver, is expected to leave Ferrari at 2020's end. Reports are currently indicating that the move was decided upon mutually (by both Vettel and Ferrari), although for many this doesn't come as a surprise seeing as though Vettel has yet to deliver the title that Ferrari has been drooling over. Unfortunately, Vettel's final year with Ferrari most likely won't be a monumental one, for COVID-19 has those behind the scenes at Formula One scratching their heads. Ponding over whether or not to restart, or just cancel the season altogether. 
Before joining Ferrari in 2015, Vettel drove for Red Bull and won several world titles. As mentioned, these world titles stopped there. Only 14 of Vettel's 53 career wins were achieved while driving for Ferrari. Considering Vettel's role at Ferrari was to replace Fernando Alonso, one of Ferrari's finest, this must not have been pleasing for all parties involved. 
According to Vettel, everyone involved has got a part to play. One weak link and the entire system falls apart. He now believes that the current team (himself included) no longer has any interest in maintaining these vital links. Vettel went on to say that there was no financial aspect to this decision at the behest of reporters. The deal reached between Ferrari and Vettel earns him about $40 million annually. 
Throughout his time with Ferrari, Vettel had plenty of chances to take home the title. However, observers and other drivers alike witnessed several clumsy mistakes that proved to be havoc inducing. Most analysts were in awe as Vettel's extensive driving experience became absolutely void of significance. The mistakes were what you'd expect from Novice drivers, much less Ferrari's chosen one. The first of these mistakes was during a race in Singapore, 2017. In an attempt to cut off one of Red Bull's drivers, he launched off pole position and lost control, causing a chaotic crash involving multiple cars. A year later at the German GP, Vettel was actually in the lead but ended up crashing into a few barriers and ruining his car. Both mishaps essentially gifted the win to Mercedes' Lewis Hamilton. 
Unfortunately, the mishaps are not restricted to his driving, for he's been known for outbursts. In late 2018 at the Canadian GP, Vettel actually grabbed the number one sign and put it in front of his own car, while planting the number 2 sign in front of Hamilton's Mercedes. He did so in a theatrical manner that most say didn't help his reputation all that much. Again, following a completely avoidable mishap on the track, Vettel swerved back onto the track and nearly took out Lance Stroll. This occurred at the Italian GP. 
Throughout all these mishaps, a lot of reports stating that Ferrari's team is continuously issuing conflicting and erratic team orders. Look no further than the Brazilian GP, where both Ferrari drivers (Vettel and Leclerc) actually crashed into one another. Most analysts agree that the crash was Vettel's fault, as Leclerc passed him cleanly, whereas right after Vettel attempted to make an unsafe pass on the outside, striking Leclerc's wheel. Both were spun out and were disqualified from the race. 
As the time for Ferrari and Vettel to split ways has obviously come, many believe that Leclerc is the future of the Italian racing team. He's been out performing Vettel as of late, and is even able to go head to head with Lewis Hamilton (successfully). Last year he actually managed to beat out Hamilton in pole positions with a score of 7-5. 
Now that the news of Vettel's departure is confirmed, a lot of people are asking about who will replace him. Most experts are saying Daniel Ricciardo, a driver for Renault, and Carlos Sainz Jr., a driver for McLaren, are likely choices. Sainz Jr., the son of Carlos Sainz, world rally champion twice over, has already proven himself year after year. Ricciardo has also proven himself to be a valuable choice. Despite his performance with Renault being only satisfactory, he actually outperformed Vettel when he drove with Red Bull. 
50% Chance F1 Will Restart Soon
Reports indicate that in Sainz Jr. were to join Ferrari, Alonso will find an open door awaiting him. The 38 year old driver is widely known to be one of the best F1 drivers in the world. With more information soon to come, the future of Formula One will definitely be interesting.