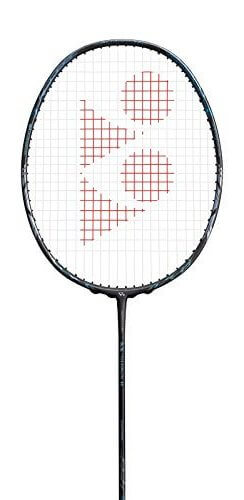 If you are looking for the best badminton rackets, Yonex brand has the best collections in the world. On January 2015, Lin Dan the king of Badminton signed an agreement with Yonex to use this Yonex Voltric Z force 2 on the Olympics.
It has an isometric shaped heap to prove that it's for advanced and serious players who want to be the best on their game.
Specifications of Yonex Voltric Z Force 2
This Yonex Voltric Z Force 2 is one of the latest creation by Yonix. Yonex has used their latest technology to build this piece. This badminton racket is a descendant of  Yonex Voltric Z Force which was one of the great badminton rackets of his time and also the best selling one.
It has an isometric shape which weighs between 85-89.9gms. Its heavy head ensures that every hit will have a strong smash.  Its 673mm (26.5″) long and it has BG65Ti string.
Prices pulled from the Amazon Product Advertising API on:
Product prices and availability are accurate as of the date/time indicated and are subject to change. Any price and availability information displayed on [relevant Amazon Site(s), as applicable] at the time of purchase will apply to the purchase of this product.
Shaft
The new Yonex Voltric Z Force 2 has the thinnest shaft and one of the best TRI-VOLTAGE System, which helps to increase the power of smashing.  Its heavier head is more aerodynamic than the old version. So that it swings more perfectly without any effort while creating a powerful smash.
Energy
When we talk about energy, it comes with Extra stiff flex and its head shaped as ultra-aerodynamic, which helps to hit the shuttle with increased power. It boosts the acceleration of the shuttlecock.
Grip
It has a full-length grip which helps you to hold it perfectly and smash the birdie properly.
Premium Design
Perfect Smashes
Heavy Swinger
So why do you have to buy Yonex Voltric Z Force 2? It has a hand full of reason to be your first choice. we are enlisting quite a few of them.
This racket has a premium design. It looks so elegant and you can feel its premium quality when you are going to hold it. It comes with a few varieties of color but the full black one with some blue decals is the best. Because of its ultra-aerodynamic design, it can produce a lot of energy. It ensures that your every smash will be a perfect hit. The shuttle will get its maximum speed. And everyone knows that if you can deliver a powerful smash your gaming skill will increase a lot. Its head carries the most of its weight. So it can swing faster than the regular badminton racket.
The main con of this badminton racket is its a lot expensive.
Because of its price, people tend to look for its alternatives.
Who is this for?
This badminton racket is for aggressive advanced players. This Yonex badminton racket is one of the best picks for serious players.